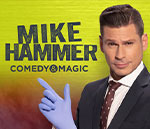 As Featured on A&E TV
"You may have seen other magicians, but Hammer gives it the extra dimension." LAS VEGAS REVIEW JOURNAL
When Hammer hits the stage you know you're in for a ride. He is a master of cutting wit and non-stop improvisation--every show an original.
Hammer's rapid-fire performance includes an awesome display of mind reading, the swallowing of double-edged razor blades, gags, pranks and general mayhem. BEWARE! Every show is loaded with 100% audience participation. Nobody is safe. It's time to Get Hammer'd. The show runs about 70 minutes.
Recommended Age: Over 13 (no foul language).